About Us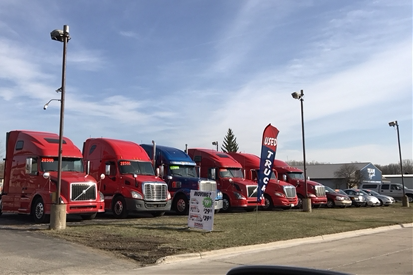 With years of experience serving the nation, our dealership is dedicated to offering off lease and retired fleet trucks at low prices.

From the moment you walk through our door, we're committed to providing you with a great buying experience. With our skilled sales staff and financing options, we'll help you get the equipment you want, at the great price you deserve.

Our goal is for you to be so delighted with your vehicle purchase that you'll come see us when you need your next truck or other equipment and will happily recommend us to friends and family. Customer referrals are the ultimate compliment.

With many vehicle shopping options available, we differentiate ourselves by understanding your business. Our experts understand the trucking industry. We are partnered with Equity Equipment Finance, LLC to offer you some of the best financing options, extended warranties and factoring rates in the nation.

Feel free to browse our inventory online and check out the Featured Vehicles section on our homepage. If you see a vehicle you like, submit an online quote request, or contact us to schedule a test drive.

To learn more about our dealership and how we can help with your next vehicle purchase, please call or stop by in person. We look forward to meeting you.
Contact Information
We're at

Address

1128 N MILITARY AVENUE
Green Bay, WI 54303

We're Open

Monday to Friday

from 9:00 AM to 5:00 PM

Saturday

from 9:00 AM to 1:00 PM

Call Us at

OFFICE

920-940-5115



E-mail Us at